By Nikolas Gavriil
Now the World Cup is in full swing and all football lovers around the world are lapping up the excitement of the goal frenzy and shocks along the way. A lot of discussion is evident on several football sites/forums for who is going to be the winner of the cup and which player is going to dominate the newspapers headlines. The debates on which player is going to win the glory have been concentrated on the likes of Messi, Christiano Ronaldo, Neymar, Ribery, Robben, Suarez, Xavi and Iniesta (the latter two are already heading and Ronaldo may be injured). However there are several great players that are not so famous and I believe that are going to surprise the football audience around the world and they can share glory with the above players I have referred to. Let's meet them together. . .
Edinson Cavani
The striker of Paris St Germain is going to share in his back with Luis Suarez the height of Uruguay's National team. Cavani is in great form this year as he scored 25 goals with Paris St Germain in all competitions.   A very prolific goal scorer, Cavani is well known for his ability to score impressive goals and his tireless work-rate. Keep your eyes focus on him and he is going to impress you.
Romelu Menama Lukaku
He is just 20 years old and this year he enforce a lot of sports journalist to write for him. He plays in Premier League for Everton in loan from Chelsea and  he scored 14 goals in the championship. He is a really fast and strong striker with great technique and sense of scoring. This year a lot of Belgians football players had great season with their teams and I think Belgium is going to surprise a lot of people. I mentioned Lukaku as I believe that is probably the strongest tool of the Belgian team in her efforts for award.
Daniel Andre Sturridge
The Liverpool striker, who partners Suarez in club football,ss has seemed unstoppable this year. He has scored 25 goals in all competitions and he is one of the reasons that Liverpool contended the Premiershipss this year. He has scored the most important goals in premier League season, earning Liverpool 20 points. He is really fast with great technique and dribble and I am sure that he is going to be one of the key players for the England national team.
Radamel Falcao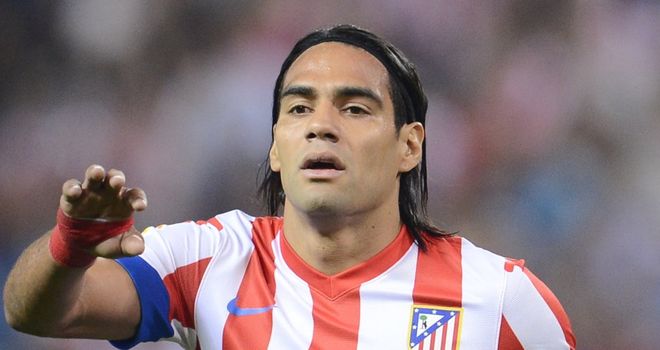 He is Colombian's diamond, a great striker who can use both feet and is imperious in the air even if he is not the tallest guy (his height is around 1.77).  He has great technique and he is well known for his coolness in front of goal. He is one of the most feared forwards in the world, he has scored 20 goals for Colombia in 50 matches, five goals less than Arnoldo Iguaran, the all-time top scorer.
However, he faces a race against time to prove his fitness after suffering a serious knee injury for Monaco. Falcao is going to carry a nation's hopes.
Mario Balloteli
I think most of us know Mario Balloteli as he is known widely for the questionable things he has done off the soccer pitch. But  we have to argue that he is a great player and he deserve a place in the best players in the world. He is fast , strong and he score a lot.  Italy is going to need every bit of help from Mario in order to survive from this harsh group stage against Uruguay, Costa Rica and England.