By Abiade Zainab
McDaniel College is like opening a door to the entire world without traveling anywhere else, and this is what most of the students that attend McDaniel College enjoy the most.
Diversity and education is something that goes hand in hand because students at McDanielCollege not only come from various countries, cultural and ethnic backgrounds, they are also of different denominations and hold different beliefs. They bring their different experiences with them into the classroom, which makes the classes highly unique.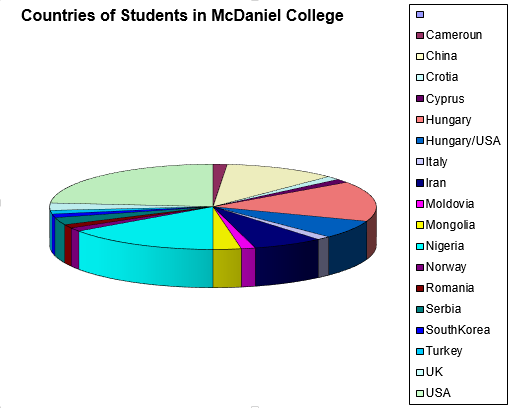 Diversity at McDaniel creates social development from people from around the world. Imagine how boring and repetitive your conversation would be if you only had a friend who had everything in common with you, but here at McDaniel you have the opportunity to widen your relationships with each other. For example we have the "International Food day" where you bring a dish from your country and share with other students and you also get to taste specialties from other countries. Whereas if you attend a school where you are all natives of the country, it's not that fun to share the food you are already used to eating.
Having a conversation with people different from ourselves increase students in knowledge, because we mostly learn from people who are different to us than people who share the same beliefs, and way of thinking. I remember last semester I had a course titled Multicultural Voices in America with Professor Gabor Molnar, where we had to read different novels from different authors, and different cultures. It was interesting for me that almost all the students in the class had a different perspective about the topic we are discussing in class.
Let's say, for example, when freshmen are starting at McDaniel college, there is some possibility that some of the students will be from Africa, Europe, Middle east, Asia, and sometimes USA.
Diversity at McDaniel really helps students graduating from the college to cope with the wider world, because we have the experience to better communicate with people coming from different cultures.