By Kristof Kocs
Samuel Chu, a Hong Kong-born American human rights and pro-democracy activist, paid a visit to Budapest, on November 23, and delivered a special lecture to Professor Tamás Hoffmann's Peacekeeping and Conflict Resolution class. This special occasion was sponsored and organized by the U.S. Embassy Budapest and provided McDaniel College students with an opportunity to learn about Chinese politics, discuss the deterioration of human rights, and consider the consequences of democratic backsliding in Hong Kong. It was also open to all students and faculty members, who could ask questions from the activist, turning the lecture into a Q&A panel discussion, whereby topics such as Chinese influence in Central Europe, the impacts of the Russo-Ukrainian War, and sanctions on China, were all addressed alongside human rights issues.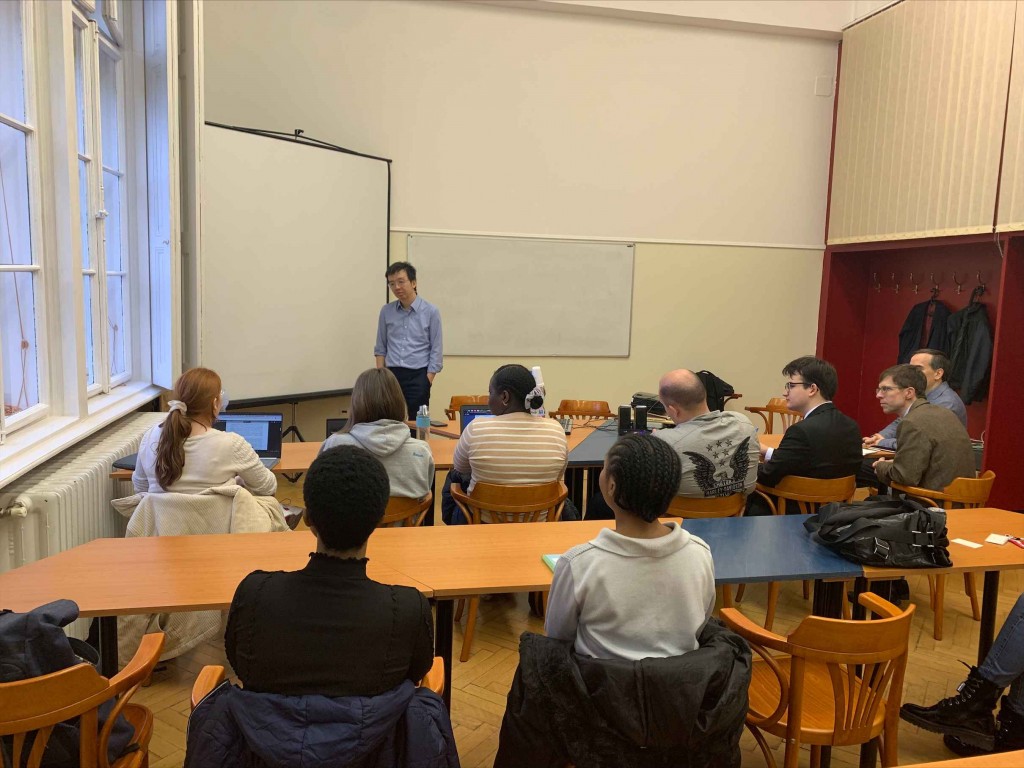 Taken by Benjamin King of the U.S. Embassy
Samuel Chu is the founder and president of The Campaign for Hong Kong, a US-based non-partisan organization, whose mission is to advocate for American leadership and policies that advance human rights and democracy in Hong Kong. Currently, he is on a European tour, traveling through several Central and Eastern European countries and giving speeches, attending conferences, and guest lecturing all across the region. Budapest was only a one-day stopover for him, where he gave two lectures to university students – one at our college and another similar one at Corvinus University.
Following a short introduction by Benjamin King, a diplomat at the U.S. Embassy Budapest accompanying the activist, Chu began talking about his personal experiences in Hong Kong and abroad. As a child, Chu told the attendees, he grew up during "British colonial times" and lived through history-shaping events, including the infamous 1989 Tiananmen Square Massacre, and UK Prime Minister Margaret Thatcher and her Chinese counterpart Zhao Ziyang's agreement, committing Britain to return Hong Kong to China
According to Chu, "no one was happy" with the 1997 reunification, despite China promising to implement the 'one country, two systems policy,' under which, in theory, both Hong Kong and former Portuguese colony Macau, could retain their established systems with a high degree of autonomy for up to 50 years, despite the socialist regime in mainland China. "China basically lied to the world, and this policy failed," Chu said of China's oppressive regulations imposed in Hong Kong.
"[As a result] in 2014, people had had enough," Chu continued, providing some context for the Hong Kong protests and the emergence of the Umbrella Movement – the name of which arose from the use of umbrellas, as a tool for passive resistance, to the Hong Kong police's use of pepper spray in dispersing the demonstrators. The protests, which lasted about two and a half months, were fueled by an angry mob, demanding more transparent elections. This followed a decision on electoral reform by the Standing Committee of the National People's Congress that mandated a selective pre-screening of candidates for future Hong Kong Chief Executive and Legislative Council elections. The pro-democracy activist also recalled a personal story, stating that his father, Chu Yiu-ming, received a suspended sentence in 2019, while his other two fellow protestors were immediately imprisoned for 16 months, for their roles in the Umbrella Movement and the 2014 Hong Kong protests.
Taken by Benjamin King of the U.S. Embassy
The second half of the special event was dominated by questions. In response to one of the questions, Chu, for example, shared his thoughts on the Chinese state's police and intelligence operations beyond the country's borders. "Anyone who believes that countries such as Iran, Russia, or China do not have a transnational network of secret and public police stations is naive," he said. Furthermore, in response to the discovery of two Chinese police missions in Budapest, he stated, "it's funny that these organizations frequently do not hide their existence at all," adding that governments still rarely deal with them properly. "Their task is to repatriate the Chinese population living abroad, as well as to keep an eye on their activity," Chu continued, while saying that these operations are part of China's complex intelligence service.
In response to the question of what people can do to stop such missions, Chu pointed out that "one could close them down, and actually should close them down, but that is not the solution." According to Chu, the solution requires the action of the actual targets of these missions themselves. "It starts with the dissidents," Chu said, "and the diaspora should stand as a whole against the activity of these missions." This, in Chu's view, would make the Chinese officials' task harder, and might help the local law enforcement – that should be informed earlier – to act adequately against them. Finally, Chu concluded that major changes, whether they are actions against Chinese oppression in Hong Kong or against Chinese intelligence service activity in the diaspora, can only be achieved with the people's joint cooperation.
Samuel Chu(Photo: Samuel Chu via Twitter.)