By Tyler Wood
Hello from the student activity council. In case you aren't aware, the SAC organizes most of the fun events that happen on at McDaniel Budapest campus, and we are always looking for new modes of advertising our events, hence this messenger article. Our aim in holding these events is to help students better integrate with the McDaniel Budapest community, to make friends and to create support networks incase things go awry, and for the general betterment and merriment of all students.
Before expositing all the upcoming events we plan to have, I'd also note that we are also always looking for more aid in holding the events, and more ideas for events, so if you have any suggestions please reach out directly to any SAC members, or Peer Mentors, or to a school administrator like Dr. Adamson whom we regularly meet with, or to message the McDaniel student body Instagram.
The most recent event was the post-midterms pub crawl on March 25. Ruin pubs are an interesting and well publicized novelty of Budapest for foreigners, me included. Between their catering to both tourists and locals, and their wide array of typical Hungarian drinks, some of which are even made in Budapest, they are an integral part to the grander economy of the city. Pub crawls represent a good opportunity to visit these common tourist attractions in a group where students can look after one another, as opposed to going alone, as well as to socialize with many interesting people from all over.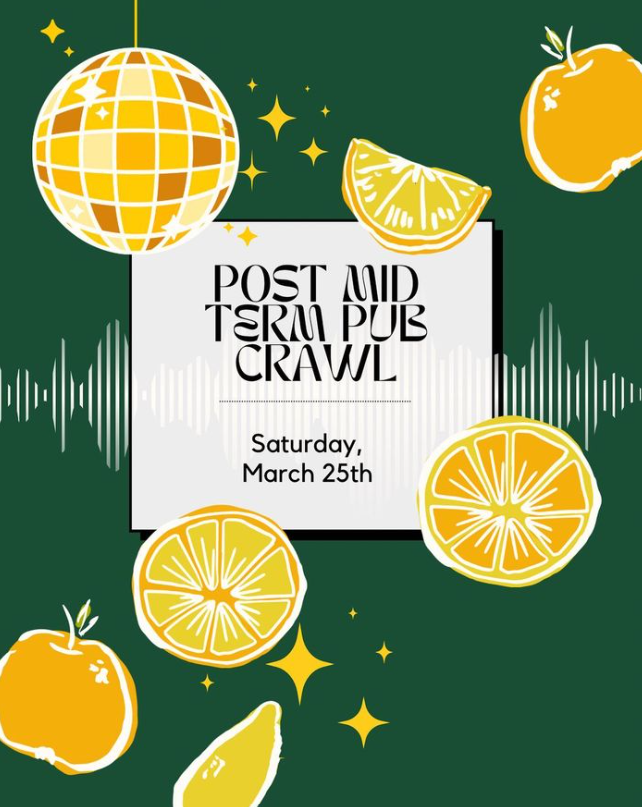 From @mcdanielbudapest on Instagram
We had initially planned for an open evening of painting at the college, but it had to be postponed due to difficulties in acquiring supplies and to make it as perfect as possible. Currently we plan to hold it March 29, and the event will be open to all students interested in painting, or just observing and chatting.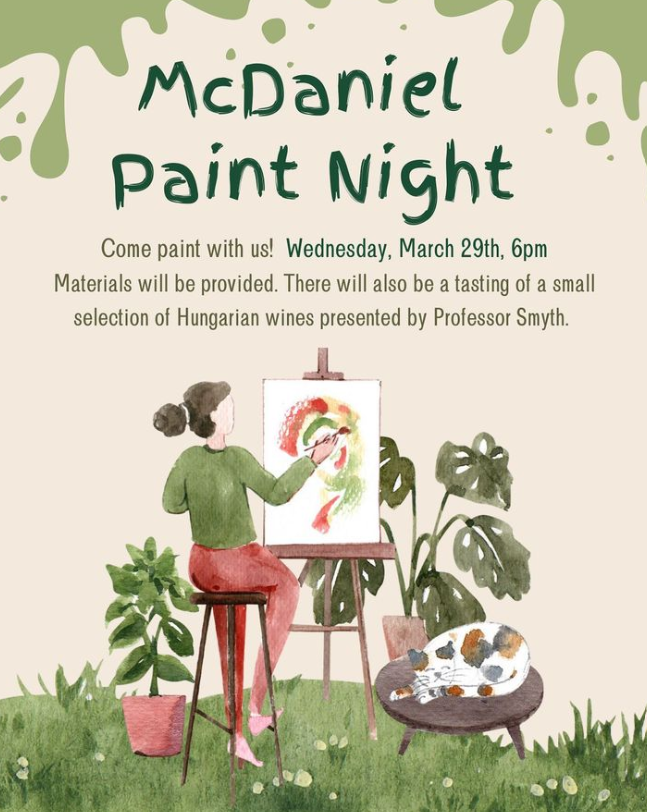 From @mcdanielbudapest on Instagram
We hope this event and the ambitions of our art students will provide ample reason for an art exhibition some time in April, which will double as a fundraising event for the SAC and possibly the artists themselves. We are hoping to make enough to recoup the costs of all our events, as in the past students have had to pay an auxiliary "student activity fee" which came as an unpleasant surprise for many.
Later in April we will hold an "International Day" which was a massive success last year. Students and Faculty should bring food or drinks which show off their own culture's cuisine and if they do so they get to experience the cuisine of others in a large potluck event. There will also be the opportunity for outdoor games, good conversation, and whatever else students may be interested providing, for instance last year one student (who has now graduated) did temporary Henna tattoos for other students.
Lastly in April the current SAC will help organize elections for the next SAC. Anyone can run for any of the 4 available posts (president, vice/copresident, communications officer, and treasurer) and I would highly recommend it if you will have the time. Being on the SAC provides valuable credits and gives you many opportunities to better your local community, which can be a rewarding experience. Voting will be done via in-person polling at the college, preceded by Instagram posts for each candidate and posters within the school at the discretion of the candidates. If you are interested in being a part of the SAC but don't want to run for a position, there's also the Peer Mentors program which collaborates with the SAC in organizing events, while also meeting with study-abroad students.
Finally if there is still time in May, we will hopefully have an opportunity to host a football (soccer) game in which all students can participate, and a picnic alongside it in case you aren't up to play but still want to cheer on your peers, or just snack in what we hope will be lovely weather.
We hope to see you at all, or at least one of our many events, and we wish you have a pleasant and successful time here at McDaniel Budapest!