Hanna Barker and Chaili Beite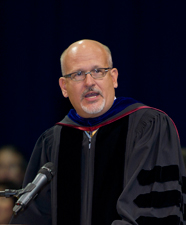 Dr. Roger Casey's official inauguration as McDaniel College president is scheduled to happen soon, and with that will come even more changes than the McDaniel community has experienced under Dr. Casey so far.
In an email sent to the McDaniel community on Feb. 27, Dr. Casey explained many developments that occurred after meetings with the vice presidents and the Board of Trustees:
International Programs
"Global is our future," said Dr. Casey in the email.  He continued to explain the importance of international education before making this declaration: "As a former dean of international programs and as a former provost for whom global initiatives were a hallmark of my tenure, I will be assuming direct presidential oversight of our office of international and off-campus study effective March 1 and for the immediate future."
Dr. Casey expressed a desire to strengthen the relationship between the main campus and the Budapest campus, and revealed his plans to make this happen: "We will be rebranding our program there as McDaniel Europe, greatly expanding efforts to recruit international students to the campus in Budapest, expanding the study abroad component of Budapest by aggressively courting other universities to send their students to our program (which can provide significant additional revenue), and promoting McDaniel Europe as a study center for academics, especially sabbaticants, who might also then serve as excellent adjunct faculty (and recruiters of extramural students) in combination with our current professors, both in Hungary and from Westminster."
Dr. Matthew Adamson noted that Europe is a very diverse place and that makes it "fascinating to live and work in, and Budapest happens to be a unique, important place in a diverse Europe.  This fact has always been important to the identity of the campus."
More information will be available in the next issue of the Messenger.
Dining Services
One project that has been in the works since the end of last semester is the renovation of Englar Dining Hall on the main campus.  After the completion of these renovations this Spring, dining services will be moved under the umbrella of Student Affairs and Dean Beth Gerl.
"We recognize the importance of a nutritional and diverse board plan to enhancing residential life at McDaniel and see our dining services as another element in a renewed focus on enhancing co-curricular activities through the office of student engagement and through other new initiatives in student affairs," said Dr. Casey in the email.
Communications and Marketing
Dr. Casey acknowledged the need for a stronger web presence, and has authorized a search to hire a Director of Digital Communications who will be in charge of developing a new website. The department of Communications and Marketing will be under the charge of Vice President for Admissions and Enrollment Management Florence Hines, rather than being located in the department of Institutional Advancement.
"The current website is really confusing and hard to navigate, so I was really excited when I heard that someone is going to make a new website," said Dani Allen '13.  "Anything would be better than the current one."
Athletics
Athletic director Jamie Smith stepped down from his role on Feb. 21.  A search committee will be formed to find his successor.  In the meantime, women's basketball coach Becky Martin will assume the role of interim athletic director.
"My greatest desire is that all these changes will strengthen our core mission of changing lives and better equip us administratively for the bright future which lies ahead," concluded Dr. Casey. "Thank you for your support."