by Anna Gál
Christmas is the most wonderful time of the year in Budapest. The weather is cold and the trees are decorated with beautiful lights all the way from Heroes' Square to Erzsébet Körút.
The capital transitions into a winter wonderland as early as mid-November.  Wooden booths are setup at Vörösmarty square and Szent István square (in front of the Basilica) and the squares become home to Budapest's Christmas markets. Locals and foreigners alike flock to the markets to enjoy exceptional Hungarian dishes and products until the end of December.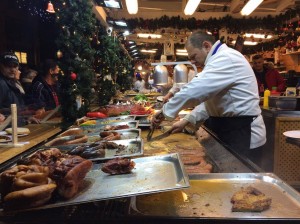 But this year is special for Christmas market goers as the city added more attractions to the market such as ice skating and light projection shows onto the Basilica.  And, the number of food stalls and dining options is ever increasing.
Ice skating at Szent István square is free for kids under 14, but you do not have to go far from the market to try your hand at the rink. The most popular and biggest ice skating rink is right next to Heroes' square by the Vajdahunyadi Castle. The price is 1400 forint for adults and 800 forints for students. At that price it is really worth trying it out! If you really don't want to spend money, there's a free option you can also try behind the "Bálna" (whale) between Szabadság Bridge and Petőfi Bridge in Pest.
The food trucks offer traditional Hungarian dishes like sausages with mashed potato and roasted duck legs with red cabbage and Hungarian red wine (which is on every Hungarians' table on Christmas Eve along with fisherman's soup).  Classic gulyás served in bread bowls alongside stuffed cabbage can also be found at every market. Every 5 meters you run into a mulled wine stand which offer red and white wines aa well as hot chocolates and different types of teas! Even on the path between Christmas markets, you can find handmade chocolates and more mulled wine. The prices for food vary from place to place but usually are around 1700-2500 forint for traditional meals. The price of drinks (mulled wines, hot chocolates and teas) are around 300-400 forint per decilitre.
In case you want to try mulled wine without the crowds that Christmas Markets attract, you can make your own mulled wine at home. You just need to buy some cheap wine, 2-3 pieces of whole cinnamon, cloves and lemon. Put the wine into a pot and heat it together with the spices until the wine is around 80 degrees. Remove the cinnamon and cloves and it's ready to drink!
Enjoy your wine and the well-deserved Christmas holiday!