By Mihai Damascan
Söntés Belgian Pub | Google reviews: 4.7/5 out of 42 reviews
Belgian Pub | 4-5 beers (per person) with snacks for two: HUF 11000 (ca. €38)
15 Bem rakpart, Budapest, District I | +36-1-788-6590
Pub Review
As this part of the city was always a district full of fancy, special restaurants and pubs, Söntés is a new destination to reach for those who love Belgian beer, or beer in general. We decided to try out this cosy underground pub because of the number of beers on tap— 20 draught beers, which is now the highest variety among the Belgian pubs in the neighbourhood.
The place has the impression of a 'beer and nothing else' pub and less of a Belgium-themed beer house or 'brasserie'. Mirrors around the ceiling focus on the spectacular centrally arranged beer taps, which are organized in a circle like in a real taproom of a medieval sailor's favourite alehouse. The heightened tables and seats also clue-in customers that they will not come here to eat, but to drink. The staff does not leave the area behind the counter, so ordering is only possible at the bar, which, again, strays far from the concept of typical Belgian pubs.
The first decision my friend and I made was between the different types of beer. He is more of a sweet and dark beer drinker (think Dubbel and Quadrupel) while I am more of a bright strong pale ale drinker (I'd choose a Blonde and Tripel). This way both of us could make conclusions on all four types of beers you can get at this place. The selection includes 200 bottled beers or, as mentioned before, 20 draught beers. If it's possible to get a draught Belgian beer anywhere, I'd say you should start your night with one.
After the second beer, normally some snacks are needed, but the bartender could only serve us nachos with cheese and tomato sauce. While this is a perfect option to go with all kind of beer, I am not sure whether any Belgian would be satisfied with that. Checking the dining menu, they also have bites of sausage, ham, cheese, vegetables and some pâtés. The staff had served the daily amount of all these, so nachos and hot sandwiches became our go-to dinner instead of Flemish fries or beef ragout.
Since we visited the pub on a Thursday night, my expectation was to see the place full, but since the place is relatively small, new guests just turned around immediately and went to the exit. No more than 20 guests were seated in the pub having their beer (which is not ordinary in Belgian pub life at all), and so there was no real noise—we could easily hear each other throughout the evening.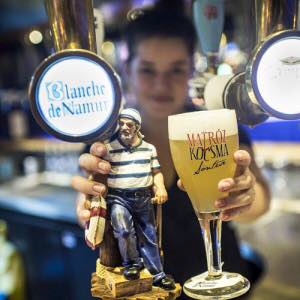 A couple of blocks away on the same street, the famous Belgian Brasserie Henri was full as usual, and continued to require a reservation two days in advance for entry. No big comparisons can be made, but I would recommend Henri's for those who want to have an authentic Belgian dinner, with Belgian beer included, in a Flemish environment. Söntés is more for those who can abstain from eating while drinking copious amounts of specialty brews in a calmer and cozier atmosphere.