It is with great sadness that we deliver the news of the passing of our dear friend, colleague, and professor, Dr. Gábor Drexler.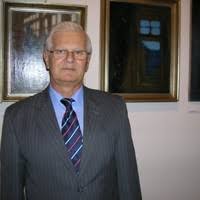 We will fondly remember Dr. Drexler, the first director of the Budapest campus of McDaniel College.
Gábor Drexler was born in Budapest on May 2, 1943. He studied at the Eötvös Loránd University of Liberal Arts and Sciences, specializing in English, and ultimately earned a Master's degree in Political Science. Dr. Drexler worked for many years in the field of intergovernmental cultural and educational exchange, retiring from public service as Assistant Undersecretary of State for International Relations at the Hungarian Ministry of Culture and Education.
It was with Dr. Drexler's guidance that McDaniel College's Budapest campus began operations in 1994. He was its first director, and with great energy and care assembled the original faculty and resources of the first US liberal arts institution of higher education in Hungary. He oversaw its administrative and student affairs as it made its transition from its original location on Villányi ut to its present location at Bethlen Gábor ter, and as Western Maryland College (McDaniel's former name) became McDaniel College in 2002.
Subsequently, Dr. Drexler devoted himself to maintaining the academic quality of McDaniel's programs, assuring a proper admissions policy, guiding incoming students through the complexities of visa applications, and keeping the spirit of the liberal arts intact, all while teaching courses in political science and communication. Perhaps the greatest illustration of his dedication to the students of McDaniel College was his guidance, through the years, of hundreds of students, from their initial course selection to the completion of their studies. Every student passed through his office, and owe him their thanks for his careful, heartfelt academic guidance and administrative devotion.
To all in the McDaniel College Budapest community, Dr. Gábor Drexler, an original member of the campus, will be sorely missed. He is survived by his brother, nieces and nephews.