By Youmna Benmaymoun
In the last few weeks, Budapest's Keleti train station had hosted thousands of beautiful souls who were escaping their devastated countries, leaving everything behind and embarking in a long and perilous journey to start a new life in Europe. Images of all kind ravaged the newsfeeds all around the world but they seldom showed that, despite the severity of the refugee crisis, these people still smiled and carried hope deep inside of them. Also, the amazing solidarity between people, some are locals some are expats, shone greatly in Keleti and it surely made these people's journey less gray. Students worked as volunteers to help distribute goods such as food, hygiene products and mats, and others who have stable sources of income came with cars filled with bags containing different types of food and many other things.
It is obvious that no amount of food or blankets will replace the warmth of a home in one's own neighborhood, city and country. However, no one can overlook the beauty of solidarity actions and hope in the eyes of those who had their fate manipulated to serve a war agenda.
Here is a report in pictures from Keleti train station:
 Keleti train station by night. People are waiting for their turns to get meals from the Migration Aid volunteers.
 Beautiful Syrian girl who was more than thrilled to be photographed. She is so proud of her biking skills and angry birds T-shirt.
Mr. Awesome! This little man made sure that he looks good on the picture and that the sentence on his T-shirt is entirely showing.
Kurdish Baby Yoda is 6 months old. He came to Budapest with his mother, uncle, two aunts and a cousin that is few months older than him.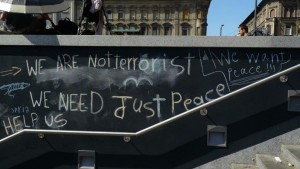 A message written on the wall of one of the metro station's exits by a group of Syrian young people.
 More beauty in the air! Volunteers didn't bring only food and blankets but their skills as well. This is Thomas, a 5th year medical student from Semmelweis University in Budapest who came to Keleti with three of his friends and examined our guests one by one. He was accompanied by translators that made sure to translate questions, acknowledgements and jokes. Every refugee had a smile and something funny to share.
Our own Cristina Ciobanu giving a speech about the importance of facing the refugee crisis. The speech was an inauguration of the solidarity concert that was organized by the Migrant Solidarity Group of Hungary, Migszol, Saturday, September 12th. Here is an excerpt: "People will always seek freedom and peace, a better life wherever they are living. 170 000 people have crossed the southern border so far this year. And by the end of 2013, 420 000 Hungarian citizens were living abroad. There are many questions and problems we have to face regarding the logistics of migration but there is one thing we must not forget: to remain human! Each of us has to do everything possible to make sure that we can openly and proudly look into each others' eyes whatever skin color we have. Nobody is illegal!"