By Faraz Bahabadi
All Photos published by Vanityfair
Denis Villeneuve, one of the best directors, working today on a next movie, which is going to be a grand and an immense project, based on Frank Herbert's Dune which is one of the most famous sci-fi novels ever written.
Trailer: https://www.youtube.com/watch?v=n9xhJrPXop4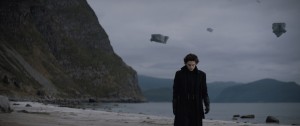 First published in 1965, this epic saga combined intellectual science fiction and high fantasy,
and went on to become an award-winning international bestseller. It won the praise of such
established sci-fi writers as Arthur C. Clarke and Robert A. Heinlein. Famous writer-director David Lynch made an attempt on adapting the novel on to the big screen but failed greatly. Now after almost 40 years Villeneuve has dared to make another attempt. With highly praised films like Blade runner 2049, Arrival and Prisoners he has already proved that he is a master of his craft and he has what it takes to fulfill the expectations that the hardcore fans of this great novel demand. A master of stunning visuals, rich and intriguing storylines and characters, Villeneuve is definitely a legend in the making.
However original Dune movie director David Lynch says he has "zero interest" in the new adaptation due to his own history with the sci-fi property. In an interview with THR, Lynch said: "Because it was a heartache for me. It was a failure and I didn't have final cut. I've told this story a billion times. It's not the film I wanted to make. I like certain parts of it very much, but it was a total failure for me."
The film has a jaw dropping stellar cast. The extremely popular Timothée Chalamet and Zendaya, the charismatic Spaniard Javier Bardem and other big names such as Oscar Isaac (Ex Machina), Josh Brolin(No Country For Old Men), Stellan Skarsgård (Good will Hunting), Dave Bautista (Blade Runner 2049) and Jason Momoa (Game of Thrones) are all among the cast.
Hans Zimmer, the legendary German composer (Gladiator, The Dark Knight Trilogy, Interstellar, Inception, Lion King) is going to compose the soundtrack for the film. He declined frequent collaborator, Christopher Nolan's offer to compose his upcoming film Tenet because he stated that "he has a personal love for the novel" so we may get an even more stellar performance than usual.
The scriptwriters include Villeneuve himself, along with Eric Roth and Jon Spaihts. Roth is one of the most successful screenwriters of the past 30 years, having worked on movies such as Forest Gump, Munich, The Curious Case of Benjamin Button, and A Star is Born. Along with the talent behind the writing and Dune's vast but extremely rich in details universe, narrative and story surely will be nothing short of phenomenal.
Villeneuve has described his vision for Dune as "Star Wars for adults" and plans to tell the
story in two parts. "I would not agree to make this adaptation of the book with one single
movie, the world is too complex. It's a world that takes its power in detail." Said Villeneuve.
There is also a spin-off TV series in development for HBOMax titled The Sisterhood.
The main setting of Dune is the planet Arrakis, where the galaxy's most important substance
"Spice" can be found. "Spice" is a drug which extends human life, provides superhuman levels of thought, and makes fold space travel possible. The basic story focuses on the noble Atreides family, who are sent to Arrakis to oversee the harvesting of Spice But their enemies, the Harkonnen family, have other ideas, leading to an epic mix of political intrigue and thrilling sci-fi drama, plus psychic visions and giant sandworms.
Brian Herbert, son of the late "Dune" author, who also wrote some "Dune" series after the main novel, reacted enthusiastically to Villeneuve's project by writing on social media. "Dune's fans, I hope you're all as excited as I am to see these early glimpses of the new 'Dune' movie. My father would have been incredibly proud!" he wrote with great passion.
Villeneuve and his team took a full year to perfect the designs for The Shai-Hulud, or the sandworms of the desert planet of Arrakis. "We talked about every little detail that would make such a beast possible, from the texture of the skin, to the way the mouth opens, to the system to eat its food in the sand." Revealed Villeneuve.
With the talent behind the writing, Hans Zimmer's epic composition, the attention to every tiny little detail, the All-Star cast and Villeneuve's top-notch directing skills to bring the cosmic substance material alive, the film seems to be going on the right direction. Being a fan of Denis Villeneuve myself, I think this film is going to make history and become a Sci-fi classic in the near future.