By Nazgol Rezapour
Well well well, the lovely, light spring breeze and the shiny sun are finally upon us marking the end of a cold winter. I don't really know about your city forecast, but here in Budapest, you can already feel the hot and shiny spring/summer coming your way. The weather is starting to lift all the fashion lovers' passion on what is "trendy" about haute couture this year.
I love being a stylish person and enjoy incorporating fashion into my everyday life so I am always up to date with the latest fashion news and the trendiest styles of the year, usually applying them to my own wardrobe! About a month ago, it was Men's Fashion Week in Milan and Women's Fashion Week in New York City. Now the most exciting women's fashion week is taking place in Paris beginning March 3rd. But spring is still among us and we patiently wait for the summer season and all the trends that it will bring. However, the main issue fashions shows face around this time of year is declaring the most trendy and top styles of the upcoming seasons for men and women.
Since the year 2014, materials and colors like; feathers, silver and gold, and spikes have been top choices for fashion designers, stylists, and bloggers. However, this year one of the most highly ranked and significant couture fashions is using fur fabric material on clothes. Some examples are; fur coats, bags, shoes, and they can even be seen in jewelry. The main advantages of fur being of high demand in fashion, is it's low cost for buyers. Top brands like Zara, Mango and H&M are able to provide people with unoriginal cheap furs that resemble the high quality styles found on runways and fashion shows.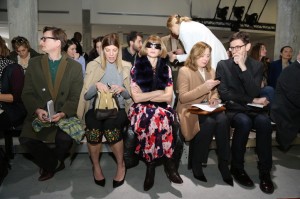 Whether you are a male or female, high fashion is accessible to everyone now. In 2015 "boyfriend" and "bell-bottom" jeans came into style resembling fashion from the 1970's. If you combine any of these 2 pair of jeans with a simple loose shirt, sneakers, and a chapeaux hat, congratulations because you are now on the list of the trendiest people of the year! Big brands like Roberto Cavalli and Georgio Armani have been spotted incorporating spikes, furs, classic colors, and loose pants in 2015 men fashion shows. Fashion is a time machine, always taking us back in time 20 years showing us trends that will never die.
In the past, many women wore high heels to keep their style classic. However, the Chanel fashion show in 2014 changed that trend a whole lot. Famous fashion expert, Karl Lagerfeld, designed a model of a chic and simple daily sneaker. These can be paired with classic outfits that can either be very elegant if paired with a fur coat or casual if just worn with jeans and a t-shirt. Women now don't need to be torn between the decisions of not looking elegant because of a 15-inch high heel. Now, these comfy and chic shoes will let you have a wonderful day out or a memorable night in the city while still being comfortable in style.
Following fashion styles of the year helps build up the momentum for big fashion weeks, like the one happening in Paris. Fashion week in Paris has a unique atmosphere compared to the other four fashion capital cities. If you are a big fan of fashion, Paris will definitely surprise you. Apart from all the people invited and funky catwalks, there is so much to see. The way most famous fashion designers present their latest styles and collection, always seem to be one of a kind and a perfect fit for Paris. The 2015 style trends of wonderful, happy and floral shoes, furs, and jewelries are sure to make anyone thrilled about fashion. These creative and unique designs are what continue to encourage all kinds of people to have a little fun with fashion, so don't feel guilty shopping for yourself this spring and summer.
Technology has helped keeping up with fashion so much easier. Smart phones and other gadgets are making it easy to find people who are just as interested in fashion as you are. It is way easier to get the latest news about designers, models and clothes. Instagram, which I myself am pretty addicted to, is a great application that can be used to keep up with fashion and pretty much everything else. You will always be up to date with the latest, trendiest and hottest fashion news.
I will introduce some of those famous pages on Instagram for you to follow. Become up to date with the latest trends and keep enjoying fashion because it never goes out of style.
Instagram Fashion News Pages:
-Crfashionbook
-Vogue /Paris/ Uk/ Brasil
-Le21eme
-Portermagazine
-Fashiontomax